Solar Power Melbourne
When Only The Best Is Enough
We have now committed to a higher level of service and quality by becoming a Clean Energy Council Approved Solar Retailer.

Glen Clark & Co use Clean Energy Council accredited Designers & Installers in all their Grid Connected Solar Power Systems. Melbourne homeowners and businesses who are looking for assistance with their systems can be guaranteed a no nonsense design and quotation service from our team. (Glen Clark – Clean Energy Council Accreditation No A0210043)
As Registered Electrical Contractors you can rest easy in the knowledge that Solar Power is a part of our business and that some of the concerns regarding the viability of Solar only businesses do not apply to us – we are here for the long run.
Our quotations are complete in every respect – we show you:
A fixed cost for your system (if a no cost, no obligation site visit is completed in accordance with CEC guidelines)
A design summary showing you the estimated minimum, maximum and daily average electrical generation for your system
Either a sketch or an aerial image of your roof space showing the locations of your solar array and inverter
To request a solar power system quotation please click here and complete the form.
Solar Power Contractors For Melbourne Homes And Businesses
As the locally based and fully licensed team of electrical contractors (REC 19544), Glen Clark & Co can help provide your solar power system in Melbourne with a premium service today.
Whether you're located in a residential home or a commercial workplace, our experienced team will be able to design, install and repair any kind of solar system, no matter the size of specifications of your space.
As a member of master electricians and of the smart energy council, our solar power contractors in Melbourne are the best in the business, as we know how to deliver a high quality service you won't find anywhere else in Victoria.
Let the experts here at Glen Clark & Co give you the reassurance you need in your solar systems today. To find out more about how team or accreditations, please get in touch with us now.
Solar Victoria Rebate
The state government rebate through Solar Victoria is available if you meet their eligibility criteria, this is a household income of less than $180K and a property value of less than $3M.
On acceptance of our quotation we lodge the quote through our Solar Victoria portal and email you the information required to start your application. The available rebate is currently $1,400.00 and an interest free loan of a further $1,400.00 is available if you wish (the loan is repayable by you after the system has been installed and all documentation completed.
You can see full information in the Solar Victoria website at www.solar.vic.gov.au.
Solar Power Systems – Terms, Conditions & Warranty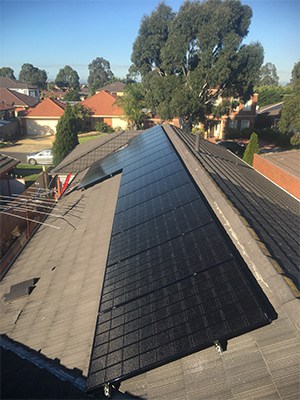 Simply put – WE CARE
It is best to design a system to cover your maximum daytime usage of electricity, that is the power you consume during daylight hours.
We will work with prospective clients to determine the most effective system for their needs, a system that will save you money and reduces any effects from greenhouse gases.
With the constantly rising price of electricity these savings will only increases with each increase in the cost of your energy.
Methods of storing your excess generated solar power in battery banks for use after the solar system ceases generation for the day are available, these allow you to store excess solar generated power for use after the system has ceased generating energy for the day, we are happy to discuss these storage methods with you if you wish.
Our installation warranty is simple and no fuss, and can be found in out sales and terms and conditions document link above.
Call us now on (03) 9736 3993 for a no obligation quotation for your Grid Connected Solar Power or Energy Storage System.
………………………………………………………………………………………………………………………………………………………………………………………………………………………………………………………………………………………
Financing Your System
We always recommend you first approach your home lender to determine if you can add the cost of a solar power system to your home loan.
We have various options available to access a loan for your system installation if you wish to take advantage of them and let savings from the solar power system go towards paying for it.