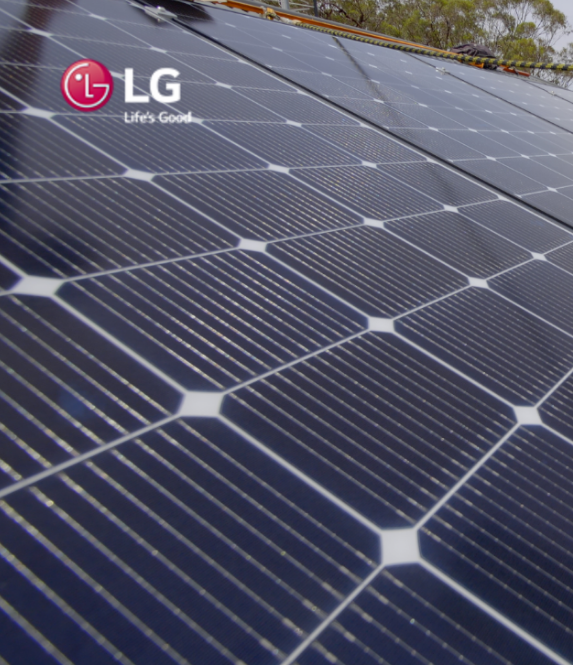 LG Solar Panel Products
LG Electronics embarked on a solar energy research programme in 1985, using their vast experience in semi-conductors, chemistry and electronics.
LG Solar modules are now available in 32 countries. LG Solar has won many international awards over the years including wining the acclaimed Intersolar Award in Germany for the LG NeON® in 2013,2014 and 2016 which demonstrates LG Solar's lead in innovation and commitment to the renewable energy industry.
Additionally, LG Solar™ won the Australian Top Brand award in 2016, 2017, 2018 and 2019. By late 2021 LG sold more than 1.6 million panels in Australia and New Zealand.
With over 80 lesser known brand panels selling in Australia, LG solar panels offer a peace of mind solution, as they are backed by an established global brand. LG is now the largest consumer brand in the solar space, with the largest consumer business locally of any solar panel manufacturer in Australia.
LG offers a comprehensive range of solar panels in the Australia and New Zealand markets - the LG NeON® H+ for residential and commercial applications, the NeON® H and the LG NeON® R for commercial applications.The LG NeON range offers an impressive 25 year product replacement and performance warranty, backed by LG Electronics - the largest consumer brand offering solar in Australia.
EXCELLENT LOW LIGHT PERFORMANCE

LG NeON® H+ has great performance under low light conditions with LG technology and our own Korean cell manufacturing, with low tolerances ensuring highly consistent performing panels.

IMPROVED HIGH TEMPERATURE PERFORMANCE

Solar panels slowly lose their ability to generate power as they get hotter. LG NeON® H+ has an improved temperature co-efficient to standard modules, which means in hot weather LG NeON® H+ panels will deliver higher output.

ENHANCED PERFORMANCE WARRANTY

LG NeON® H+ comes with an enhanced performance warranty. At 25 years of use, the LG NeON® H+ is guaranteed to provide at least 90.6% of initial performance.

INCREASED OUTPUT WITH HTAR GLASS AND ANTI-REFLECTIVE COATINGS

LG uses HTAR glass (Highly Transmitted Anti Reflection) which has low reflectivity and high transmittance to increase power generation compared to AR glass used in previous models.

PROVEN FIELD PERFORMANCE

LG has been involved in a number of comparison tests of the LG panels against many other brands of panels. LG NeON® models are consistently among the best performing in these tests.

LOW LID

The N-type doping of the NeON® cells results in extremely low Light Induced Degradation (LID) when compared with the standard P-type cells. This means more electricity generation over the life of the panel, as the panel degrades less.
HAIL RESISTANT

LG NeON® H+ panels are tested with 35mm hailstones hit at 27.2m per second in comparison with the IEC standards of 25mm and 23m per second, thus making the NeON® H+ panel significantly stronger to withstand larger hailstones.

25 YEAR PRODUCT & PERFORMANCE WARRANTY

The LG NeON® H+ comes with a 25 year product and performance warranty which includes replacement, labour and transport. The warranty is provided by LG Electronics Australia and New Zealand.

BUILT TO LAST - EXTENSIVE TESTING PROGRAMME

LG solar panels are tested at least up to 2 times the International Standards at our in-house testing laboratories, ensuring a very robust and longer lasting solar module.

STRICT QUALITY CONTROL

The quality control of LG world-class solar production is monitored and improved using Six Sigma techniques via 500+ monitoring points to effectively maintain and improve our quality.

60 YEARS OF MANUFACTURING EXPERTISE

LG panels are designed and built utilising 6 decades of manufacturing excellence by LG. As with any other LG Electronics product, when you buy LG panels, they come with the assurance of a global manufacturer that over the past 6 decades has mastered product design and manufacturing process. The benefit is peace of mind solar panels that exceed customer expectations.
THE NEW LG NEON® H+ Black

410W - Up to 20.9% module efficiency. The LG NeON® H+ is a powerful and one of the most versatile modules on the market today. The LG NeON® H+ is equipped with N-type cells and half-cut and gap-free technology to increase power and efficiency compared to previous models. The LG NeON® H+ includes a 25-year product and performance warranty for high performance and reliability.

DOWNLOAD DATASHEET

THE NEW LG NeON® H+

415W - Up to 21.2% module efficiency. The LG NeON® H+ is a powerful and one of the most versatile modules on the market today. The LG NeON® H+ is equipped with N-type cells and half-cut technology to increase power and efficiency compared to previous models. The LG NeON® H+ includes a 25-year product and performance warranty for high performance and reliability.

DOWNLOAD DATASHEET

LG NEON® R

Many competing 60 cell panels in Australia and New Zealand produce 370W power. The LG NeON® R at a similar physical size reaches an incredible 435W and 21.9% efficiency, making it ideal for solar systems seeking visually pleasing panels and for roofs where space is tight.

The NeON® R is a powerful and one of the most efficient modules on the market today. Engineered with N-type cells and back contact technology to increase power and efficiency, the NeON® R has one of the lowest performance degradation in the world. Also, it comes with 25-year product warranty. Combining high efficiency, high performance, low degradation, reliability and aesthetics that impress, the NeON® R is the most suitable panel option for customers that want to maximize roof space or have a solar system ready for battery storage.

DOWNLOAD DATASHEET
LG NEON® H Commercial

460W/465W/470W - Up to 21.4% module efficiency. The LG NeON® H is a powerful and one of the most versatile modules on the market today. The LG NeON® H is equipped with N-type cells technology to increase power and efficiency compared to previous models. The LG NeON® H includes a 25-year product and performance warranty for high performance and reliability.

DOWNLOAD DATASHEET