Solar Power
Solar Power Melbourne
When Only The Best Is Enough
We have now committed to a higher level of service and quality by becoming a Clean Energy Council Approved Solar Retailer

Glen Clark & Co use Clean Energy Council accredited Designers & Installers in all their Grid Connected Solar Power Systems, with us you will get a no nonsense design and quotation. (Glen Clark – Clean Energy Council Accreditation No A0210043)
As Registered Electrical Contractors you can rest easy in the knowledge that Solar Power is a part of our business and that some of the concerns regarding the viability of Solar only businesses does not apply to us – we are here for the long run.
Our quotations are complete in every respect – we show you;
A fixed cost for your system (if a no cost, no obligation site visit is completed in accordance with CEC guidelines)
A design summary showing you the estimated minimum, maximum and daily average electrical generation for your system
Either a sketch or an aerial image of your roof space showing the locations of your solar array and inverter
To request a solar power system quotation please click here and complete the form.
Solar Victoria Rebate
The state government rebate has now ceased until July 1st 2019, below is an excerpt from the email we received today (12 April 2019)
When applications re-open on 1 July 2019, Solar Victoria will be implementing a point-of-sale rebate scheme. This means that applicants must apply for and receive eligibility confirmation before signing a contract with a solar retailer. Once installation is confirmed, the rebate and/or loan will be paid to the solar retailer and deducted from the system price. If a householder installs a solar PV system without receiving eligibility confirmation, they will be unable to claim a rebate. 
Once applications for solar PV rebates re-open, Solar Victoria will also offer a no-interest loan component to complement the solar PV rebate. Rebates for solar batteries and solar for renters will also commence on 1 July 2019.  
The introduction of no-interest loans is one of the benefits of applying to the program after 1 July 2019.
If you already have your eligibility number you will still receive the rebate.
Solar Power Systems – Terms, Conditions & Warranty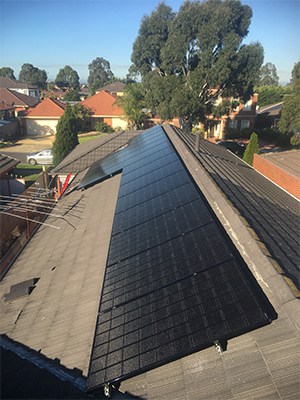 Simply put – WE CARE
It is best to design a system to cover your maximum daytime usage of electricity, that is the power you consume during daylight hours.
We will work with prospective clients to determine the most effective system for their needs, a system that will save you money and reduces any effects from greenhouse gases.
With the constantly rising price of electricity these savings  will only increases with each increase in the cost of your energy.
Methods of storing your excess generated solar power in battery banks for use after the solar system ceases generation for the day are available, these allow you to   store excess solar generated power for use after the system has ceased generating energy for the day, we are happy to discuss these storage methods with you if you wish.
Our installation warranty is simple and no fuss, and can be found in out sales and terms and conditions document link above.
Call us now on (03) 9736 3993 for a no obligation quotation for your Grid Connected Solar Power or Energy Storage System.
………………………………………………………………………………………………………………………………………………………………………………………………………………………………………………………………………………………
Financing Your System
We always recommend you first approach your home lender to determine if you can add the cost of a solar power system to your home loan.
We can also recommend finace through our partners, Parker Lane Finance, you deal direct with the staff at Parker Lane after mentioning we suggested you contact them.
Parker Lane – Terms & Conditions