A Canadian company based in Calgary and with facilties in South Australia, Eguana Technologies designs and manufactures grid interactive energy storage systems based on its proprietary power control technology. Fully integrated energy storage systems ("ESS") consist of three major components, the software controller (the energy management system or "EMS"), the battery, and the advanced power controls.
The Company's smart power control technology charges and discharge batteries, converting alternating current (AC) to direct current (DC) to charge and converting DC to AC to discharge batteries in a seamless bi-directional conversion process. Eguana's technology also provides the point of connectivity to the energy storage system and provides regulatory control over the interconnection of the energy storage system to the power grid and the consumer.
Eguana's products are designed and delivered as a value-added, factory assembled, energy storage system pre-integrated and certified with lithium batteries.  Eguana can also deliver the solution without the EMS controller for integration into the customer's own control network ("AC Battery") or as a set of power controls sub-assemblies("Bi-Direx") for integration by the Company's partners into their own products, with their own batteries.
Of the systems planned for Australia the 13-39kWh Evolve is now available with the smaller 6.5kWh Enduro planned for release in late 2019.
The Evolve system provides reliable self consumption of stored power along with back-up power availability. Full 5kW output from the system will cover most normal household backup requirements.
The uses the highly regarded low voltage LG Chem Lithium NMC batteries and is scalable meaning the system can be expanded as needed.
It is rated at IP34 protection which means it can be installed externally is most conditions, it is important that energy storage systems are protected from direct sunlight and with this in mind we would normally recommend installation of the equipment in a garage or similar. The unit is wall mounted so a good solid wall is required for mounting.
The important matter with any energy storage system and its return on investment is to ensure that the system can be successfully charged at all times of the year using your exported solar power, this may mean increasing your system size if you have an existing system or installing a larger system if you do not yet have solar power.
We would assist you with these matters when designing a system for you, if enough information about this is not readily available we would make recommendations to you.
The true value of energy storage systems, we have to be honest and advise that without the available government rebates it is probably not worth considering any storage system, payback periods can exceed the warranty on equipment. If backup is very important to you then an energy storage system may be just what you are looking for.
The state government recently announced rebates of up to $4,839.00 for eligible households and this changes the payback scenario considerably, contact us for further information.
Glen Clark & Co have now attained the LG Chem Certificate of Achievment after completing training for the competent installation of LG Chem RESU batteries.
LG Chem Certicate of Achievement
Our reputation as designers and installers of high quality grid connected systems is unparalleled and we intend the same reputation for our energy storage systems.
LG Chem Battery Storage Systems
LG Chem offers the best lithium solar home battery systems.
LG Solar Batteries
LG Chem RESU Storage and Warranty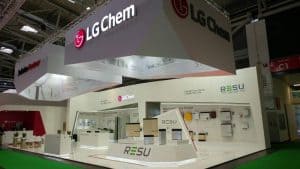 We can provide free advice on home battery storage or battery ready solar systems. To enquire call us on 03 97363993 or complete the quotation request in this web site.
In recent times household energy costs have increased which has contributed to the recent strong interest in battery storage solutions. With several brands offering solar energy solutions, one of the most important questions is what product is best for you?
Here are 3 points to consider when selecting a battery storage system:
Does battery storage make sense for you?
Whether battery storage stacks up for you is dependent on many factors. It is clear that financial viability alone doesn't necessarily drive the decision. The best scenario is when you:
have paid off your solar system and it is "battery ready",
are on a high electricity rate; and
have relatively low demand.
In this scenario, your solar system is generating significant excess electricity and a battery will make financial sense.
To summarise, it's not just the cost of the battery that counts, but the value you can extract from the battery, from storing electricity for your own use later in the evening to reducing time of day demand charges.
There is no simple "one size fits all" solution and it is relatively complex to determine the right size for a solar and battery system. To assist you please seek advice from your local LG Solar Specialist.
As a rough guide, a residential solar system with a battery solution will have a payback period of 6 to 10 years.
How to choose your solution
We will look at your specific tariff structure, demand profile, energy consumption and most importantly solar export as this is what will charge the battery, export during winter is of concern.
This detailed analysis will define the viability of a battery solution in your particular situation and is the most complex and important part of the process. Proper modelling will ensure good outcomes.
………………………………………………………………………………………………………………………………………………………………………………………………………………………………………………………………………………………….
Ingecon Hybrid Solar Inverters
This new inverter features three operating modes:
Stand-alone mode: The inverter generates a stand-alone AC grid and acts as a grid manager, guaranteeing the correct balance between generation, consumption and the storage system. To do so, it controls the energy flow between the grid and the batteries, based on the status at any given time. The ISS 1Play makes it possible to integrate a solar energy source into the grid, as it features a PV input. The back-up power source (a diesel genset or the public grid) will only inject power when the batteries' state of charge is lower than a certain threshold.
UPS mode (Back-up): This operation mode has been designed for grid-connected systems, where grid outages are long and frequent. In order to guarantee this uninterruptible power supply, the inverter maintains the batteries fully charged. During a grid outage, the battery inverter generates the AC grid and the energy stored in the batteries is used to power the loads.
Self-consumption mode: This operating mode is conceived to minimise grid consumption. If the energy generated is greater than the one demanded, any surplus energy will charge the batteries or, if they are fully charged, the energy could be injected into the grid. If the loads demand more energy than the one produced by the renewable sources, then the batteries would cover this demand, increasing the self-consumption ratio.
Ingecon Hybrid Solar Inverter Datasheet
 Batteries Suitable for Connection to Ingecon (note not all are available in Australia)
………………………………………………………………………………………………………………………………………………………………………………………………………………………………………………………………………………………….
SolarEdge Storedge System
The SolarEdge StorEdge DC coupled storage solution can be used to increase energy independence for homeowners by utilizing a battery to store and supply power as needed. To increase self-consumption, the battery is automatically charged and discharged to meet consumption needs and reduce the amount of power purchased from the grid. The solution is based on a single inverter for both PV and storage. Existing SolarEdge systems can be upgraded to the StorEdge solution using the Storedge interface with SolarEdge meter and this provides a simple pathway to energy storage.
The Storedge interface currently connects with the LG RESU range of high voltage batteries.
Solar Edge Storedge AC Coupled Inverters
Upgrade existing PV systems to StorEdge
All the benefits of the HD-Wave technology record-breaking efficiency, extremely small, lightweight and easy to install, and high reliability without any electrolytic capacitors
Specially designed to work side by side with three-phase SolarEdge inverters and non-SolarEdge inverters
Compatible with the StorEdge Interfaces and selected battery vendors such as the LG Chem RESU
Monitors battery status, PV inverter production, and self-consumption data for full visibility
IP65 – Outdoor and indoor installation
No high voltage or current during installation, maintenance or firefighting for maximum safety
The StorEdge AC Coupled Inverter does not work with power optimisers or as a standard solar PV inverter
Solar Edge AC Coupled Inverter, Equipment and Warranty
………………………………………………………………………………………………………………………………………………………………………………………………………………………………………………………………………………………….
The Enphase battery system is a neat and effective method of adding energy storage to any solar power system.
The batteries are connected directly to your main electrical switchboard without the need to upgrade your existing solar power system and of course are semalessly added to an Enphase micro-inverter controlled solar power system.
This is achieved by adding the Enphase Envoy control/monitoring unit at your main switchboard.
………………………………………………………………………………………………………………………………………………………………………………………………………………………………………………………………………………………….
Fronius Symo Hybrid and Fronius Solar Battery
Fronius manufacture the Symo Hybrid whoch is suitable only for three phase energy storage solutions, this inverter is suitable for use with the Fronius Solar Battery and soon to be released with connectivity to LG Chem energy storage units.
Fronius Symo Hybrid Information and Warranty
Fronius_Energy_Package Information
………………………………………………………………………………………………………………………………………………………………………………………………………………………………………………………………………………………….