Glen Clark & Co have now attained the LG Chem Certificate of Achievment after completing training for the competent installation of LG Chem RESU batteries.
LG Chem Certicate of Achievement
Our reputation as designers and installers of high quality grid connected systems is unparalleled and we intend the same reputation for our energy storage systems.
LG Chem Battery Storage Systems
LG Chem offers the best lithium ion solar home battery systems.
LG Solar Batteries
LG Chem RESU Storage and Warranty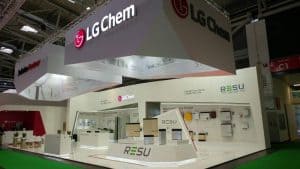 We can provide free advice on home battery storage or battery ready solar systems. To enquire call us on 03 97363993 or complete the quotation request in this web site.
In recent times household energy costs have increased which has contributed to the recent strong interest in battery storage solutions. With several brands offering solar energy solutions, one of the most important questions is what product is best for you?
Here are 3 points to consider when selecting a battery storage system:
Does battery storage make sense for you?
Whether battery storage stacks up for you is dependent on many factors. It is clear that financial viability alone doesn't necessarily drive the decision. The best scenario is when you:
have paid off your solar system and it is "battery ready",
are on a high electricity rate; and
have relatively low demand.
In this scenario, your solar system is generating significant excess electricity and a battery will make financial sense.
To summarise, it's not just the cost of the battery that counts, but the value you can extract from the battery, from storing electricity for your own use later in the evening to reducing time of day demand charges.
There is no simple "one size fits all" solution and it is relatively complex to determine the right size for a solar and battery system. To assist you please seek advice from your local LG Solar Specialist.
As a rough guide, a residential solar system with a battery solution will have a payback period of 6 to 10 years.
How to choose your solution
We will look at your specific tariff structure, demand profile, energy consumption and most importantly solar export as this is what will charge the battery, export during winter is of concern.
This detailed analysis will define the viability of a battery solution in your particular situation and is the most complex and important part of the process. Proper modelling will ensure good outcomes.
………………………………………………………………………………………………………………………………………………………………………………………………………………………………………………………………………………………….
SolarEdge Storedge System
The SolarEdge StorEdge DC coupled storage solution can be used to increase energy independence for homeowners by utilizing a battery to store and supply power as needed. To increase self-consumption, the battery is automatically charged and discharged to meet consumption needs and reduce the amount of power purchased from the grid. The solution is based on a single inverter for both PV and storage. Existing SolarEdge systems can be upgraded to the StorEdge solution using the Storedge interface with SolarEdge meter and this provides a simple pathway to energy storage.
The Storedge interface currently connects with the LG RESU range of high voltage batteries.
Solar Edge Storedge AC Coupled Inverters
Upgrade existing PV systems to StorEdge
All the benefits of the HD-Wave technology record-breaking efficiency, extremely small, lightweight and easy to install, and high reliability without any electrolytic capacitors
Specially designed to work side by side with three-phase SolarEdge inverters and non-SolarEdge inverters
Compatible with the StorEdge Interfaces and selected battery vendors such as the LG Chem RESU
Monitors battery status, PV inverter production, and self-consumption data for full visibility
IP65 – Outdoor and indoor installation
No high voltage or current during installation, maintenance or firefighting for maximum safety
The StorEdge AC Coupled Inverter does not work with power optimisers or as a standard solar PV inverter
Solar Edge AC Coupled Inverter, Equipment and Warranty
………………………………………………………………………………………………………………………………………………………………………………………………………………………………………………………………………………………….
The Solax Power Station uses LG Chem rack mounted Lithium Ion batteries with up to two being installed within the weatherproof enclosure. This gives a maximum storage of 13kWh with the two batteries installed
SK-SU Backup Solar Hybrid Inverter
SolaX X3 Hybrid – 10.0T Inverter
SolaX Power Warranty Policy – AU
………………………………………………………………………………………………………………………………………………………………………………………………………………………………………………………………………………………….
The Enphase battery system is a neat and effective method of adding energy storage to any solar power system.
The batteries are connected directly to your main electrical switchboard without the need to upgrade your existing solar power system and of course are semalessly added to an Enphase micro-inverter controlled solar power system.
This is acheieved by adding the Enphase Envoy control/monitoring unit at your main switchboard.
………………………………………………………………………………………………………………………………………………………………………………………………………………………………………………………………………………………….
Fronius Symo Hybrid and Fronius Solar Battery
Fronius manufacture the Symo Hybrid whoch is suitable only for three phase energy storage solutions, this inverter is suitable for use with the Fronius Solar Battery and soon to be released with connectivity to LG Chem energy storage units.
Fronius Symo Hybrid Information and Warranty
Fronius_Energy_Package Information
………………………………………………………………………………………………………………………………………………………………………………………………………………………………………………………………………………………….
VARTA Energy Storage

VARTA is a German battery manufacturer with over 130 years of experience with some impressive achievements along the way.
As far back as 1896 a VARTA battery was used in -50 degree cold of the Arctic, and in 1969 a VARTA battery powered astronaut Neil Armstrong's camera during his lunar voyage.
The company is active in more than 75 countries, with five production and assembly facilities in Europe and Asia as well as distribution centres in Asia, Europe and the United States.
VARTA produces batteries for power tools, home and garden equipment, IT and communications equipment, industrial and robotics, medical equipment, residential and commercial energy storage.